Hey guys! Yes, I missed another day from my schedule and I sincerely apologize. To make up for it I've decided to publish a few more posts this week, maybe that's how I'll learn my lesson!
Since it's officially summer, I've decided to talk about my most anticipated releases of summer 2017. So without adieu, let's gets into them!
The Disappearances by Emily Bain Murphy
Releases on July 4
Goodreads Synopsis: What if the ordinary things in life suddenly…disappeared?
Aila Quinn's mother, Juliet, has always been a mystery: vibrant yet guarded, she keeps her secrets beyond Aila's reach. When Juliet dies, Aila and her younger brother Miles are sent to live in Sterling, a rural town far from home–and the place where Juliet grew up.
Sterling is a place with mysteries of its own. A place where the experiences that weave life together–scents of flowers and food, reflections from mirrors and lakes, even the ability to dream–vanish every seven years.
No one knows what caused these "Disappearances," or what will slip away next. But Sterling always suspected that Juliet Quinn was somehow responsible–and Aila must bear the brunt of their blame while she follows the chain of literary clues her mother left behind.
As the next Disappearance nears, Aila begins to unravel the dual mystery of why the Disappearances happen and who her mother truly was. One thing is clear: Sterling isn't going to hold on to anyone's secrets for long before it starts giving them up.
This is How it Happened by Paula Stokes
Releases on July 11
Goodreads Synopsis: Somehow I've become a liar. A coward. Here's how it happened.
When Genevieve Grace wakes up from a coma, she can't remember the car crash that injured her and killed her boyfriend Dallas, a YouTube star who had just released his first album. Genevieve knows she was there, and that there was another driver, a man named Brad Freeman, who everyone assumes is guilty. But as she slowly pieces together the night of the accident, Genevieve is hit with a sickening sense of dread—that maybe she had something to do with what happened.
As the internet rages against Brad Freeman, condemning him in a brutal trial by social media, Genevieve escapes to her father's house, where she can hide from reporters and spend the summer volunteering in beautiful Zion National Park. But she quickly realizes that she can't run away from the accident, or the terrible aftermath of it all.
Incredibly thought-provoking and beautifully told, Paula Stokes's story will compel readers to examine the consequences of making mistakes in a world where the internet is always watching…and judging.
Because You Love to Hate Me: 13 Tales of Villainy
Releases on July 11
Goodreads Synopsis: Leave it to the heroes to save the world–villains just want to rule the world.
In this unique YA anthology, thirteen acclaimed, bestselling authors team up with thirteen influential BookTubers to reimagine fairy tales from the oft-misunderstood villains' points of view.
These fractured, unconventional spins on classics like "Medusa," Sherlock Holmes, and "Jack and the Beanstalk" provide a behind-the-curtain look at villains' acts of vengeance, defiance, and rage–and the pain, heartbreak, and sorrow that spurned them on. No fairy tale will ever seem quite the same again!
Featuring writing from . . .
Authors: Renée Ahdieh, Ameriie, Soman Chainani, Susan Dennard, Sarah Enni, Marissa Meyer, Cindy Pon, Victoria Schwab, Samantha Shannon, Adam Silvera, Andrew Smith, April Genevieve Tucholke, and Nicola Yoon
BookTubers: Benjamin Alderson (Benjaminoftomes), Sasha Alsberg (abookutopia), Whitney Atkinson (WhittyNovels), Tina Burke (ChristinaReadsYA blog and TheLushables), Catriona Feeney (LittleBookOwl), Jesse George (JessetheReader), Zoë Herdt (readbyzoe), Samantha Lane (Thoughts on Tomes), Sophia Lee (thebookbasement), Raeleen Lemay (padfootandprongs07), Regan Perusse (PeruseProject), Christine Riccio (polandbananasBOOKS), and Steph Sinclair & Kat Kennedy (Cuddlebuggery blog and channel).
Lucky in Love by Kasie West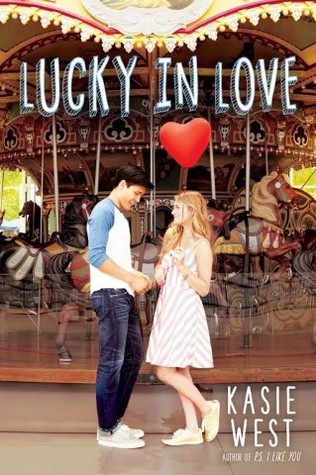 Releases on July 25
Goodreads Synopsis: In this new contemporary from YA star Kasie West, a girl who wins the lottery learns that money can cause more problems than it solves, especially when love comes into the picture.
Maddie doesn't believe in luck. She's all about hard work and planning ahead. But one night, on a whim, she buys a lottery ticket. And then, to her astonishment —
She wins!
In a flash, Maddie's life is unrecognizable. No more stressing about college scholarships. Suddenly, she's talking about renting a yacht. And being in the spotlight at school is fun… until rumors start flying, and random people ask her for loans. Now, Maddie isn't sure who she can trust.
Except for Seth Nguyen, her funny, charming coworker at the local zoo. Seth doesn't seem aware of Maddie's big news. And, for some reason, she doesn't want to tell him. But what will happen if he learns her secret?
With tons of humor and heart, Kasie West delivers a million-dollar tale of winning, losing, and falling in love.
Daughter of the Burning City by Amanda Foody
Releases on July 25
Goodreads Synopsis: A darkly irresistible new fantasy set in the infamous Gomorrah Festival, a traveling carnival of debauchery that caters to the strangest of dreams and desires.
Sixteen-year-old Sorina has spent most of her life within the smoldering borders of the Gomorrah Festival. Yet even among the many unusual members of the traveling circus-city, Sorina stands apart as the only illusion-worker born in hundreds of years. This rare talent allows her to create illusions that others can see, feel and touch, with personalities all their own. Her creations are her family, and together they make up the cast of the Festival's Freak Show.
But no matter how lifelike they may seem, her illusions are still just that—illusions, and not truly real. Or so she always believed…until one of them is murdered.
Desperate to protect her family, Sorina must track down the culprit and determine how they killed a person who doesn't actually exist. Her search for answers leads her to the self-proclaimed gossip-worker Luca, and their investigation sends them through a haze of political turmoil and forbidden romance, and into the most sinister corners of the Festival. But as the killer continues murdering Sorina's illusions one by one, she must unravel the horrifying truth before all of her loved ones disappear.
They Both Die at the End by Adam Silvera
Releases on September 5
Goodreads Synopsis:On September 5, a little after midnight, Death-Cast calls Mateo Torrez and Rufus Emeterio to give them some bad news: They're going to die today. Mateo and Rufus are total strangers, but, for different reasons, they're both looking to make a new friend on their End Day. The good news: There's an app for that. It's called the Last Friend, and through it, Rufus and Mateo are about to meet up for one last great adventure and to live a lifetime in a single day.
Wild Beauty by Anna-Marie McLemore
Releases on October 3
Goodreads Synopsis: Love grows such strange things.
For nearly a century, the Nomeolvides women have tended the grounds of La Pradera, the lush estate gardens that enchant guests from around the world. They've also hidden a tragic legacy: if they fall in love too deeply, their lovers vanish. But then, after generations of vanishings, a strange boy appears in the gardens.
The boy is a mystery to Estrella, the Nomeolvides girl who finds him, and to her family, but he's even more a mystery to himself; he knows nothing more about who he is or where he came from than his first name. As Estrella tries to help Fel piece together his unknown past, La Pradera leads them to secrets as dangerous as they are magical in this stunning exploration of love, loss, and family.

So, these are all my most anticipated releases of the summer! I found all of these books to be very intriguing and unique and I can't wait to get my hands on them!
What are some of your most anticipated releases? Let me now in the comments down below!

Thanks for reading!
See you soon!
Bye
Namitha